First, Summer and Jimmy would thank everyone for their warm wishes, empathy, and prayers during this crazy difficult time. The outpouring of support on social media has been amazing and we are very grateful for our fans, friends, and family.
As many of you know, tattoo artist Summer Henry recently had to take a break from Tattooing in order to rest during her last month of pregnancy and to give birth to a beautiful baby boy.  Asher Stone Henry was born Tuesday 2/24/15 @ 5:16 am – 6lbs 11oz, 21 inches.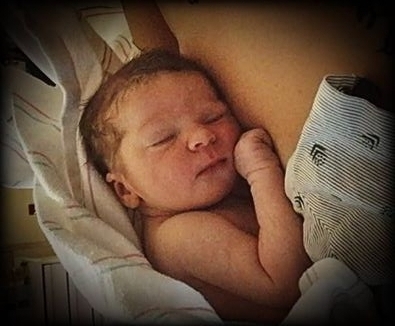 Summer was released on the evening of Thursday, Feb 26th after going through a rough delivery that ended in an emergency cesarean. Asher had knotted up his umbilical cord, as well as wrapped it around his neck. After spending a few days with family, it became readily apparent that something was amiss. Summer was in an intolerable amount of pain, and her stomach was red/warm to the touch. Sunday afternoon on Mar 1st, Jimmy discovered that her sutures were leaking pus and he rushed her to the emergency room. She had an interstitial abdominal infection/abscess, which if not treated in time can be deadly.
Because it's an abscess, the ER has had to open her sutures, drain the pus, wash the wound/pack with gauze, and give her antibiotics. It's a very painful process, as it requires her wound be left open for an extended period of time. A vacuum assisted closure (VAC) device is constantly pulling the pus/infection out of this open wound, and will need to be in place for several weeks. Summer was released from the ER the night of Mar 4th, and will require home visits from a doctor who will come to the house 3 days a week to remove her bandages, clean out the incision, and repack the foam necessary for the VAC devise. Summer is very weak and will be confined to a bed with this open wound for up to 8 weeks.
Jimmy has been vigilantly by Summer's side, assisting her with everything from bathing to breastfeeding. Her weakness has made it very difficult to even slide her legs over the side of the bed, let alone stand up to walk the short distance to the bathroom.
With no one to work at the shop, there is no income coming in and the shop is at risk of shutting down. We need your support to keep the dream of Avatar Tat2 alive – to provide a family friendly space for sharing our love of body art, and celebrate local artists. Many friends/family suggested that we start a GoFundMe account in order to give a vehicle for them to provide financial support. Our sister Stephanie has created this page and is managing it for us.
We're not sure where we will find the money to keep Avatar Tat2 open, but even if you just stopped by to say hello and share this page with your friends. Thank You!  We've never felt such love.
We are also looking for guest tattoo artists and piercers, to work in the shop to keep the doors open during the next few months. If you are interested, please email Stephanie at byng.stephanie@gmail.com with your availability and portfolio. She will make sure this gets into Jimmy's hands so he can schedule an interview with you.  Jimmy's inbox is full-to-bursting right now, and Stephanie wants to make sure your email is not accidentally missed.
Thank you again,
Summer, Jimmy, Cyrus, Gwen, Serenity, and Asher Henry